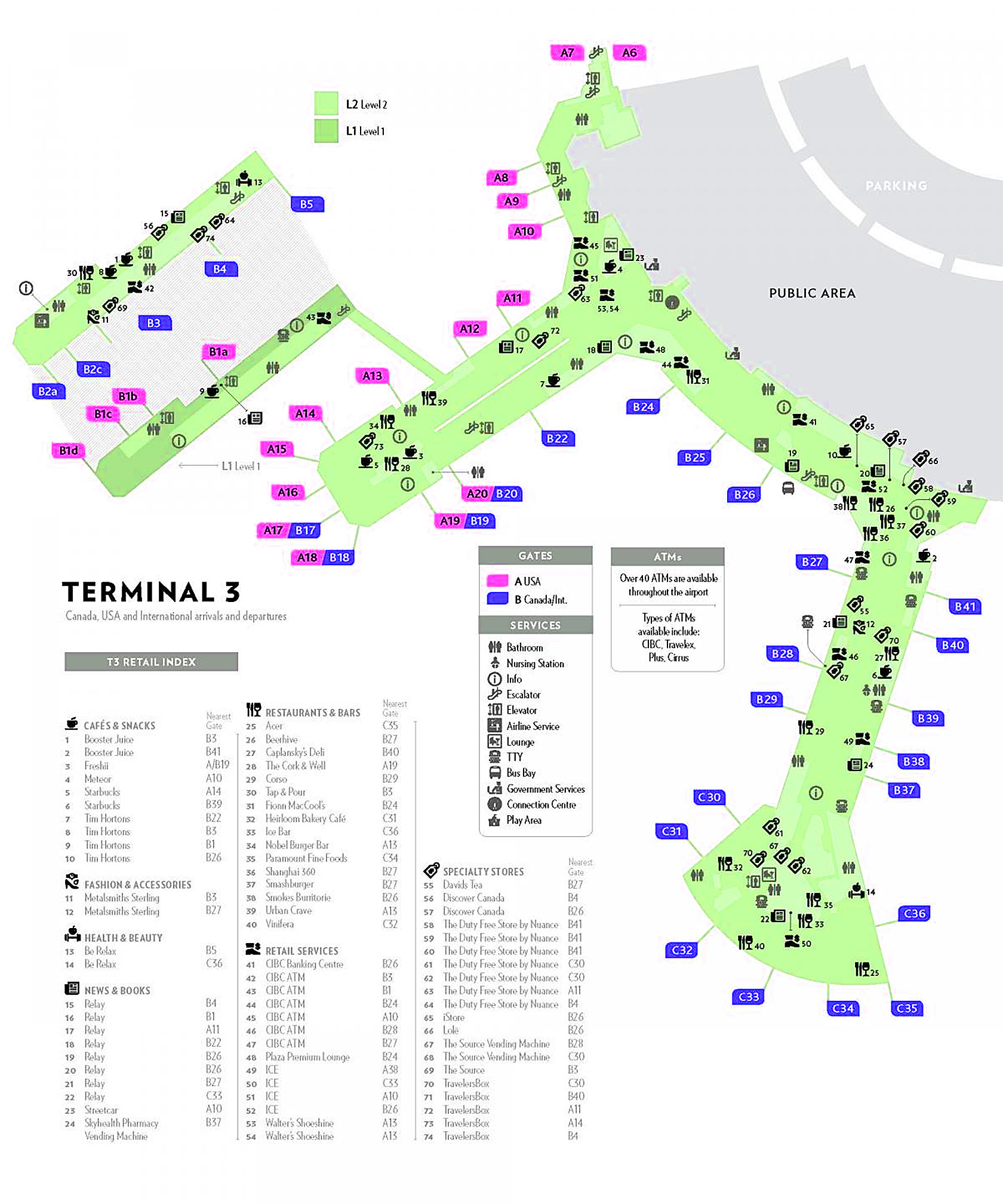 Every day more than hundreds of passengers use airport services. It was called by the name of 14 Prime Minister of Canada Lester B. Pearson in 1984. The first name was Malton airport in 1939. Then it was renamed to Toronto International Airport in 1960.
The building consists of 2 terminals and 3 levels. The whole airport represents a majestic modern place, where you can do everything you want, before the flights. Terminal 3 has been working since 1991. It is situated on 3 Levels and has several parts. There are Arrivals, US Customs, Canada Immigration, Canada Border Services, traveler's aid, Lost and Found service, area for baggage on Level 1. There are Departures, Check-in, Parking, hotel Sheraton, train LINK, many shop zone Node C, post-security, restaurants, kid's area, several Lounge zones, 46 gates to plains on Level 2. Level 3 includes services of transfer for transit passengers and 46 gates.
 Terminal 3 Map Arrivals Toronto Pearson Airport YYZ
Level 2 Departures Terminal 3 map
Terminal 3 Gate map
Toronto Pearson International Airport YYZ Terminal 3 Services
Free wi-fi. Some restaurants are equipped with IPods for making an order and entertaining people
Ambassador Porter. Baggage carts. Secure Wrap. Excess Baggage. You may leave not only bags, but coats, if you fly in a warm country
International Currency Exchange (ICE) and CIBK Banking Center. This service allows exchanging currency without leaving the airport, as well as getting medical insurance
Pearson Chapel
Pet relief area. If you are traveling with pets, you will have all the possibilities of walking and relaxing with your pet
Ice Huts and Skin of Light. These exhibitions help you to relax and to think about other corners of the world
DrugSmart Express. A wide range of medicines, pills, lotions and medicated creams are presented here
Be Relax Spa. You can get a manicure, pedicure or massage here. This relaxation center fills you with pleasant emotions and helps look fresh between flights
Plaza Premium Lounge. It is a great vacation spot with wide screen TV, soft armchairs and fresh foods and drinks
Nursing Rooms and Mamava nursing pod
Shops Duty Free, Eat and Drink
Hotel Sheraton. If you are a transit passenger or you plan to live in Toronto for only several days, this hotel is the best option. The rooms have all facilities. Moreover there is a swimming pool, jacuzzi and golf course here. Every room has air conditioning, kettles, coffee maker, TV and Wi-Fi. So you can relax and gain strength after traveling and enjoy the view from the window

What can you buy in Duty Free in gate Terminal 3 YYZ airport?
The Area of shops is very wide and interesting here. Duty Free, Tom Ford and Le Labo are famous shops with cosmetics and perfumes.
Lolë is a brand of clothes in Canada, so you will have a great opportunity to buy some canadian.
Discover Canada trades mugs, backpacks, and children 's clothes.
Duty Free Store by Dufry is a brand of tobacco, liquors. You can also buy chocolate, gifts, souvenir apparel technologies and canadian food here.
Michael Kors Duty Free presents a wide selection of bags, wallets, watches, shoes, fragrances.
Relay and 6 & Sundry are shops with books, magazines, newspapers, snacks and other goods which you can take on trips.
The Source helps you to choose electronics: headphones, ipods, ipads etc.
La Mer helps you to choose and buy makeup and skincare creams for gifts or for yourselves.
Restaurants and cafes
There are a lot of different kinds of food and drinks in Terminal 3. You can find Japanese, Italian, Mexicano, Canadian food here. Japanese restaurant Acer can surprise you with a menu of a great number of rolls, sushi, noodles and exotic soups. You may order a delicious breakfast, which will be represented by omelets, yogurts with granola, burritos, oatmeal, panini banana, french toast and fruit salad. For the dessert it offers egg muffins, butter croissants and belgian waffles. You can also order apple crumble tart and chocolate pecan tart.
Italian food is represented in Archeo Pizzeria and Corso Pizza and Pasta. You may enjoy the taste of pizza, pasta, wine and antipasto here.
Beerhive, Tap & Pour, Fionn Irish Pub, Vinifera, Vino Volo Wine Bar represent different alcoholic drinks. It has delicious local snacks for beer and wine. You may taste coffee, tea or juice and smoothie in Starbuck, Booster Juice.
Tim Hortons, Heirloom Bakery Caffè and Carlo's Bakery Cake ATM are sweets restaurants. There are bagels, donuts, cakes, muffins and tea or coffee here.
Subway, Paramount Fine Foods, Smashburger are fast food cafes. You can find many kinds of burgers and sandwiches here, shawarma, takos, falafel, baklava. You may take some food to the airplane.
Toronto Pearson International Airport YYZ Terminal 3 is the best place for traveling to any point in the world.
Wish you pleasant travels and bright impressions!